My Turntable Page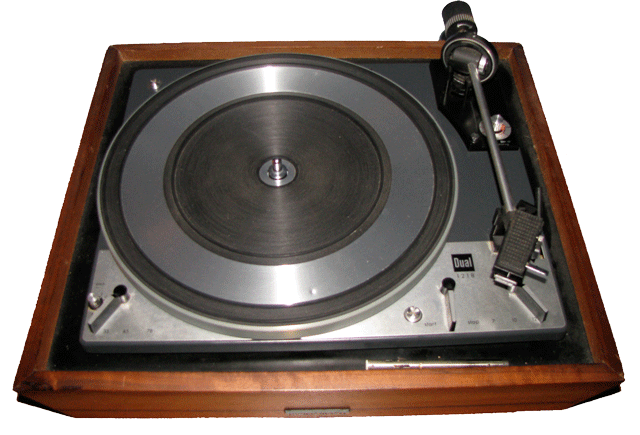 List of turntables in my collection
Acoustic Research XB 77
Bang & Olufsen Beogram 4002
Bang & Olufsen Beogram 1800
Bang & Olufsen Beogram RX 2
Dual 1019 (x2)
Empire Troubadour 598 II
Garrard 730m
Perpetuum-Ebner PE 2020
Philips GA-312
Pioneer PL-12D (since sold)
Pioneer PL-530 (since sold)
Pioneer PL-518 (since sold)
Sharp RP-117
Technics SL-1300
Technics SL-5 (since sold)
Technics SL-B300 (since sold)
Weathers 'The Townsend'
Yamaha YP-D3 (since sold)
Yamaha P-320
Unlike most people my age, I listen to records far more often than I do CDs, I have a small collection of vinyl (mostly classic rock, but some other types of music as well). In the few years that I've been listening to records, I've gone through a bunch of turntables. Here is the lineup so far:
Pre-History
My first turntables were BSR record changers built into '70s Emerson tabletop stereo systems, none of which worked very well. My first truly working turntable was a Garrard 730m, which needed a new stylus at first, but once it was replaced it worked fairly well. I've been told that it was one of the worst Garrard turntable models made, with plastic parts that are prone to breakage (none of which have broken for me, BTW), and a tendency to miss the edge of the record when in automatic mode. Although not perfect, it was satisfactory, and served me well for years.
Bang & Olufsen
In late 2000, I got my first Bang & Olufsen (B&O) turntable, a Beogram 3000. The Beogram 3000 I have is the older version with a normal tonearm, not like the mid '80s Beogram 3000 which had tangential tracking (a feature of their higher-end mid '70s-early '90s turntables, as seen below). When I got it, it had a speed problem; 33RPM records would play too slow when the speed/size selector was set to 33RPM mode, but would play fine when set to 45RPM mode. 45RPM records would play too slow in 45RPM mode unless the speed control knob on the side was pressed in, whereupon the speed returned to 45RPM. At first, I thought the belt was to blame. The first replacement belt I got was a round PRBLine replacement sent to me by Anthony Garza of the (sadly now-defunct) BeoMuse B&O repair shop that should've worked size-wise, but it put too much tension on the mechanism, causing it to go slower than it had with the original belt. It turned out that the original belt was soft and stretchy, while the PRBLine belt was much stiffer. A few months later, Anthony sent me a belt that was supposedly a direct replacement for the belt used by the Beogram 3000. Although the belt he sent me was of the right material, it was way too small, and using it had the same effect as the PRBLine belt had. A few months later, Anthony sent me a custom-made belt that fit perfectly, but the problem remained. I now think that the problem lies not with the belt, but in the speed-control mechanism, which I hope to fix eventually. I continued to use the Beogram 3000 for some time, usually keeping it in 45RPM mode.
Then, in a stroke of luck, I found a Beogram RX 2 turntable at a yard sale for $5. The belt was in good shape, but the cantilever (a small piece of aluminum which holds the stylus needle) was broken in half. I thought that I could replace just the needle, but then it turned out that the needle and cartridge were integrated, and couldn't be separated. I looked for another cartridge on eBay, but the one I was looking at went from $50 to $145 in the closing minutes! I decided this wasn't the best option, and then tried to bid on an identical turntable, but it too went past $50. I then became desperate. I asked Anthony if there was anything he could do. He told me that he could insert a piece of steel wire to splint the two pieces, then glue it together. I sent him the cartridge, and in a week I had it back, looking as good as new. I put it in the RX 2, pressed play, and waited for the results. Success! I could barely see where he made the repair. Records played with it had slightly emphasized Ss, but it worked well enough to keep my RX 2 working until I finally acquired a boxed MMC5 cartridge several years later, along with a Beogram RX (also in it's original box). In addition to these, I also have a Beogram 1800, which is likely to end up as a parts unit.
I have also acquired a pair of Bang & Olufsen's fabled tangential-tracking models, one of which is a Beogram TX 2. Part of their third series of tangential-tracking Beograms, it's not quite up-to-par technology-wise with the previous series (4000/8000), but does a damn good job tracking warped records, and has an interesting mechanism. The other is a Beogram 8000, one of the most advanced turntables they produced. Not only does it have a tangential tracking arm, it also features "tangential drive", a method of spinning the platter using a coil on each side of the sub-platter. It is far more stable speed-wise than the TX 2's typical belt drive mechanism, and allows for pitch adjustments "on the fly" complete with digital speed display. My 8000 is missing a couple of parts, and has some cosmetic issues (normal for the series), but is in excellent shape otherwise, and works great. I also have a non-working 8000 which I'm keeping around as a parts unit. Predating any of these is the Beogram 4002, a simplified follow-up to the original Beogram 4000. It uses belt drive like the latest TX 2, but has the optical record size sensor like the 8000 (and 4000). The 4002 was produced for much of the '70s, along with two variants: the remote-controlled Beogram 4004, and the quadraphonic Beogram 6000. I haven't tested this turntable yet, but once I lubricate the mechanism and replace the old capacitors, it should make a nice performer.
Pioneer
In mid-2003, I acquired what would be the Beogram RX 2's successor, a Pioneer PL-518. My first direct-drive unit in several years, it was in good shape, but was missing a stylus, which shelved it until mid-2004. That was when I brought the PL-518 to a local Hi-Fi shop, where I had it's Realistic cartridge outfitted with a Shure-type needle. It then replaced the RX 2 as the main turntable in my stereo system. It worked well, but had minor issues: the stiff wooden/rubber feet someone had used to replace the original spring-loaded rubber feet made it susceptible to acoustic feedback, so I had to use a set of Audio-Technica add-on feet to manage this. Also, the turntable speed was never truly steady for some reason; yet, it served me quite well for some time, until I sold it to someone who needed a decent first turntable. Since then, I've acquired a couple of other Pioneer turntables, a PL-12D (which, sadly, I ended up selling off shortly after I acquired it, again to someone who needed a turntable), and a PL-530. The PL-530, unlike the PL-12D and PL-518, is fully automatic (in fact, the tonearm has its own drive motor!). Oddly enough, the cartridge included with it was the same as used in my second 'real' turntable, a Bang & Olufsen SP-12 (in a form able to fit a regular 1/2" headshell, of course). I was hoping it would see some time as my main TT, but I couldn't get it to work too well with my Shure V-15 III cartridge, so I ended up selling it as well. I wouldn't mind having another Pioneer turntable at some point, perhaps an example of the (in)famous PL-L1000 linear tracker.
Technics
In early 2006, I finally managed to find a worthy replacement to the Pioneer: a Technics SL-1301. Another direct-drive turntable, it is similar to several home & semi-professional turntable models released by Technics in the mid-late '70s (related, in a way, to the legendary SL-1200). It has quartz lock control (to keep the speed locked precisely on), and an internal spring suspension (which is a bit temperamental, but works for the most part). Unfortunately, midway through 2006, it's speed control circuitry developed a glitch, rendering it unreliable; however, it seems to behave itself most of the time. I also have a few later Technics turntables with P-mount arms: an SL-10 (compact model with linear-tracking arm under the dustcover), an SL-5 (cheaper successor to the SL-10; I sold mine to someone who's new to vinyl), and an SL-B300 (an inexpensive automatic belt-drive unit). The most interesting of the set is the SL-10, which is built far more solidly than most of the Technics "close-and-play" linear tracking turntables, as it was designed as an engineering statement. In addition to these, I have a SL-1300 (non-quartz-lock direct-drive automatic TT), but the tonearm needs repair, as the part which allows the counterweight to thread on has broken off. I also have an original SL-1200 (predecessor of the famed SL-1200MkII, made for over 30 years, and widely used by DJs) which is missing a rubber foot, but is otherwise intact, and works nicely.
Acoustic Research
Not too long after acquiring the Technics, I also picked up an Acoustic Research (AR) model XB 77 turntable. Soon after, I acquired another AR turntable, a plain XB, and that became my main turntable. Since then, I have also acquired yet another AR turntable, an ES-1 from the '80s. Of the three, I am mostly using the ES-1, since the XB 77 seems to have some anti-skate issues, and the XB is in need of a new headshell. AR, founded by Edgar Villchur and Henry Kloss, produced several models of turntables from the '60s into the '80s. AR turntables, by and far, are extremely simple, compared to other turntables I've used: completely manual, with no automatic return mechanism, or even speed selector switch (the pulley on the motor is stepped, to allow for either 33RPM or 45RPM playback; switching speeds is accomplished by removing the outer part of the platter, and moving the belt to the larger pulley section by hand), just a platter driven by a motor (though the XB model added a cueing lever, and the very rare ETL-1 model actually had a set of speed selector buttons). However, due to their high quality and low cost, they were extremely popular. AR turntables are highly regarded by audiophiles, and many upgrades are available (for example, my ES-1 has had a Linn Basik+ tonearm installed in place of the original AR arm).
Dual
After several years of mainly using single-play turntables, I acquired my first decent record changer, a Dual 1218. Dual has produced turntables for a very long time, with their best-known turntables being the 10xx and 12xx series models from the '60s and '70s. They are solidly built, and last a very long time if well-maintained. As received, my 1218 had issues with the automatic functions, as well as a dead channel. I had it repaired, and it works perfectly. Not too long afterwards, I picked up an upgrade of sorts, a Dual 1219, and ended up selling the 1218 to someone as a starter turntable (though they eventually gave it back to me). The 1219 is similar to the 1218, but has a full 12" platter, and a more advanced tracking height adjustment system (which, sadly, was broken when I acquired it). It's been fully repaired, and fitted with a Shure V-15 Type IV cartridge, which sounds excellent. I doubt I'll be using it's record-stacking capabilities very often, but it's able to play a single record just as easily as six. One thing which makes it different from my single-play turntables is it's use of idler wheel drive rather that belt- or direct-drive; some people shun idler wheel turntables, but I have yet to detect any major rumble in the audio while playing records on my 1219. I've also picked up a pair of the 1219's predecessor, the 1019. Made from the mid '60s to the early '70s, the 1019 uses a 10" platter which weighs 7 lbs, unlike the 4 lb platters used by other 10" Duals like the 1218. Unlike later Duals, it supports 4 speeds (16/33/45/78), and has a separate switch position for manual operation. Both of these 1019s had minor mechanical issues when I got them, but one of them is now working to some degree, and both are in great shape. Somewhat related is the Perpetuum-Ebner PE 2020, which is similar to the Dual 1219, but has a number of added features like a mechanism which detects whether or not there's a record on the platter when the auto-cycle begins, and if so, its likely diameter. Not too long after the PE 2020 was made, Dual merged with Perpetuum-Ebner, eventually swallowing them up entirely. At the moment, the PE 2020 is gummed up, but I'm hoping to get it working at some point so that I'll be able to compare it to my Dual changers.
Miscellaneous
Some of the turntables I have are in categories all by themselves. One of these would be my Sharp RP-117, a linear-tracking drawer-load turntable. It's capable of playing both sides of a record without having to flip it over; unfortunately, it's currently in the shop due to belts, and other issues. I also have an Empire Troubadour 598-II, which is a very nice manual turntable with a heavy platter and a nice base. It may eventually replace the Dual 1219 as my main turntable, but it needs some work before I can use it. Another is a Yamaha P-320, which was given to me. It needs a belt and is missing it's headshell, so it's not of a whole lot of use at the moment. I briefly owned another Yamaha TT, a YP-D3 from the early-mid '70s, but ended up selling it soon after I got it. Yet another is a Philips GA-312, which I got for free. The 312, as well as it's predecessor the 212, are often referred to as "poor man's Thorens". Both feature suspended platters, electronically-controlled belt drive mechanisms, and interesting 'soft touch' controls which light up. Like many of them, my 312 needs to have the power switch replaced before I can do much with it. In a class by itself is the infamous Garrard Zero 100, a record changer with an early attempt at tangential tracking. The "pantographic arm" is shaped like a conventional tonearm, but uses a series of rods and pivots to keep the cartridge parallel with the record groove as it tracks the record. Like many gimmicks, it often doesn't work as well as intended, but it should be interesting to mess around with. I only have the chassis, but a base shouldn't be too hard to make. Another unique turntable is a Weathers "The Townsend". Weathers Industries was most famous for their unique "FM" cartridge, which used frequency modulation to feed its signal to a special preamp/oscillator. Dating from the early '60s, this single-speed (33RPM only) turntable uses a unique two-motor drive system involving small rubber idler tires which drive the inner rim of the platter. The tonearm is similarly odd, made mostly of wood and extremely light by the standards of the day. This turntable needs quite a bit of work; the idler tires need replacement (not sure if there's a source for new ones), and the tonearm pivot seems loose. If I can get it running, it should prove quite interesting; many NOS parts for these turntables (and full units!) are available from Surplus Sales of Nebraska.
Conclusion
So far, I've amassed over 20 turntables, of various shapes and sizes. Several of them get swapped in and out of my various systems from time to time, with the Dual 1219 currently serving as my main turntable, and the Beogram 8000 and Technics SL-10, among others, in rotation in other systems. Each turntable has it's own features and functions, and some work better than others, but all of them have their purpose. None of them are completely perfect, but are set up as best as they can be, and most of them work and sound pretty good.


Site Navigation:
Back to my tube page!
Back to the other stuff page!
Back to my main page!




Turntable Web Sites
If you have a turntable which needs repairs, go here!
Another source for turntable repairs
Dual turntable repair!
Buy turntables on eBay
Garage-A-Records...for all your phono stylus/cartridge needs!
LP Gear - an excellent source for turntable belts and other supplies!
Dual Reference - information on all sorts of Dual products
Vinyl Nirvana - information about AR turntables and mods!
BeoCentral - an excellent Bang & Olufsen reference site
BeoWorld - Everything Bang & Olufsen
My Favorite Things About Turntables
Easy to use
High quality (mostly)
Analog sound