1953 Rover P4 75
Return to Home
Return to Resources
---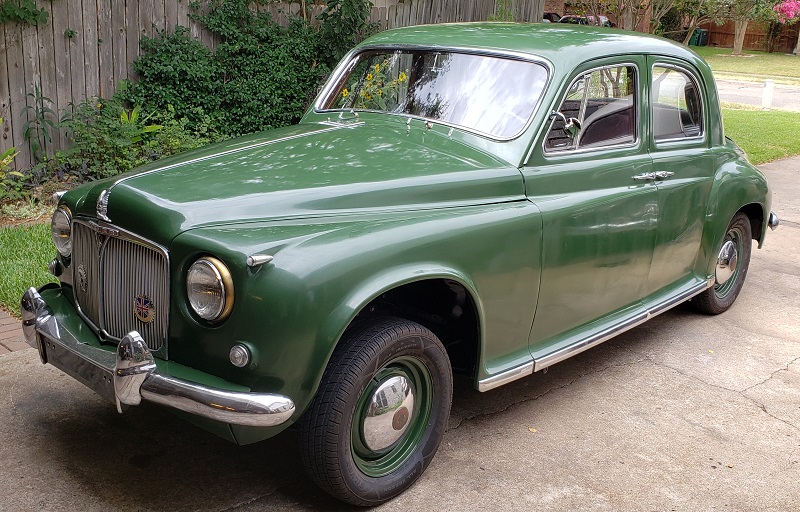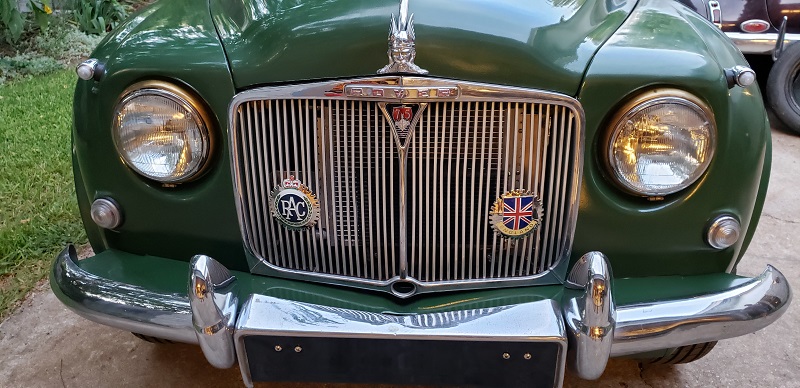 If you had asked me before 2018 if a Rover ever crossed my mind as a potential classic car to purchase, my answer would have been "What is a Rover?" So you may wonder how I ended up with a 1953 Rover P4 75? The saga started in late 2017 when I started chasing a 1940 Buick Super 8 that had been on and off the Austin, Texas Craigslist for the most part of 2017. The previous owner struggled to sell the Buick and once we finally came to an agreement on a price, the owner had a 1953 Rover P4 75 sitting in the driveway next to the Buick that he wanted me to take off his hands. At the time, I had never heard of Rover and had no idea of its desirability so I offered $200 for the Rover to ensure the Buick purchase was not in jeopardy. At that price, I figured I would not lose much if I decide to restore or resell the Rover.
After I had both vehicles purchased and towed back to my house, I contacted my parents to see if they were interested in the Rover before I decided what to do with it. We all ended up doing our own research to learn more about the Rover Company and the P4 cars. One of the biggest concerns I had with an antique foreign import car was finding any parts including simple things we might take for granted such as weatherstripping. To my surprise and relief, these Rover P4 cars are still beloved in England and there are a number of vendors that sell a wide variety reproduction parts in the UK. Even more surprising to me was the wider selection of parts available for a car that's very rare in the USA. I had failed to find certain parts for a 1983 Audi that I once had despite the Audi being 30 years younger than the Rover!
The other concern I had with this particular 1953 Rover P4 is it no longer had the original engine and drivetrain. Although an engine swap detracts from the value and originality, it is an understandable change considering how difficult it might have been to maintain or repair the engine in the USA during the mid-1990s when I suspect the swap had occurred. In place of the original 2.1L 6-cylinder Rover IOE engine was a Toyota 22R 2.4L 4-cylinder transplanted from a 1982 Celica mated to an Aisin-Warner A43D 4-speed automatic transmission taken from a late-1980s Toyota Pickup. If anyone wanted to do a Rover resto-mod in 1990 then a Toyota 22R is an excellent engine choice being among the elite group of indestructible engines that are known to run for many hundreds of thousands of miles.
Ultimately, my parents decided they were very interested in the Rover. Having never done a full frame off restoration before and the Rover was in need of one, I saw an opportunity to acquire restoration knowledge and hone my skills on the Rover before taking on the 1940 Buick project. At the same time, I can at least "save" the Rover when many others wouldn't bother to invest the time and money in a rare vehicle that has limited collectible value in the USA. The rest of the content you will find here on the Rover P4 are spread out across several pages as a restoration diary starting from the initial purchase, tear down to the bare frame and ground up restoration. I hope you enjoy the pictures and find some of the content useful as there is limited information and pictures on the Internet regarding these unique cars.
---
Restoration Diary
Here is a video that gives you a quick 5 minute overview of the entire 20 month restoration process.
2018 01 - Initial condition
2018 02 - Tear down (Part 1)
2018 02 - Tear down (Part 2)
2018 03 - Frame clean up
2018 04 - Frame paint
2018 05 - Front suspension and brakes
2018 05 - Rear axle and brakes
2018 06 - Engine and transmission tear down
2018 07 - New exterior color selection and wheels
2018 08 - Body clean up and repair
2018 08 - Body sand blasting and paint
2018 09 - Body back on frame
2018 09 - Engine, transmission, and steering
2018 10 - Exhaust header, engine start up and fender work
2018 11 - Dash restoration and throttle linkage
2018 12 - Finished fenders and more sand blasting
2019 01 - Brakes, column shifter and finished body reassembly
2019 02 - First test drive!
2019 03 - Life intervened; no noteworthy progress this month
2019 04 - Front windshield and seat
2019 04 - Prep for final paint
2019 05 - Final paint!
2019 05 - Trim and windshield installation
2019 06 - Rear seat and miscellany
2019 07 - Upholstery!
2019 07 - Fuel tank
2019 08 - Second test drive!
2019 08 - Final touches
2019 09 - First show debut at the Texas British Car Days
---
Miscellaneous Technical Notes
Wiring diagram
customized for this particular P4.
The original Rover P4 fuel gauge relies on two electromagnetic solenoids inside the gauge. One terminal is always powered by 12V, the gauge case is grounded, and the other terminal goes to a variable resistor (sender) that varies the resistance to ground. For original P4's with a positive chassis, the polarity of all the aforementioned terminals are reversed and still will work. For this particular P4, I also used another electrical fuel gauge for the temperature gauge since the original temperature gauge was a capillary type incompatible with the Toyota 22R engine.
---
Back to Top